Chloe Jane

Hey
Title
Daughter of Aine
Mystery girl
Daughter of love
Important Information
Gender
Female
Family
Aine (Mother), James (Husband), Daisy (Daughter), Josph (Father)
Mytholigy
Celtic
Child Of
{{{child of}}}
Status
Immortal
Eye Color
Blue
Hair Color
Blond
Height
198cm
Other
Affiliation
Camp Mythology, Aine, Celtic Mythology
Weapons
Throwing knifes, sword, dagger, spear and bow and arrows
Species
Demigoddess
Home
Camp
Quests
None
Also Known As
{{{aka}}}
| | |
| --- | --- |
| | This epic and awesome character belongs to Poptropica. |
Funny, Caring, Protective, Loyal, Friendly, Shy, Easy to talk to, Secritive, Conferting, Great role model, Great Friend, Kinderistic (Always full of engey, like ADHD), Kind, Creative, Courages, Strong Willed, A person who will stand for what is right, A music person and Great performer.
Chloe was born in 1810 to Aine and Josph Jane on July 20th in Colomba, the day Colomba freed its self from the spanish empire. Anie to Josph about who she really was and what danger Chloe was in. Anie dissapered and left Joshph with Chloe. Josph took care of Chloe wisely. When Chloe was four Josph married a beautiful young woman called Maryen. Maryen claimed to love Josph but really was after the money he had. Maryen relised Josph had a daughter and also relised her plan was ruined. Maryen sticked to trying to get the money but Chloe busted her everytime. When Chloe was 14 she had to marry, much against her will. She married a 15 year old called James. After a year of the two being married Josph was poisened and Maryen got all the money. Chloe poisened Maryen and got all the money which she then gave away to help the sick. Later Chloe realised she was pregnent and told James, who was delighted. Nine months later Chloe gave birth to Daisy. The three were very happy and Daisy become a happy girl. Then Aine took the three to the year 2013 where they become spirits and stayed together. They were taken to a camp and lived in the main house with each other.
Theme Song
Edit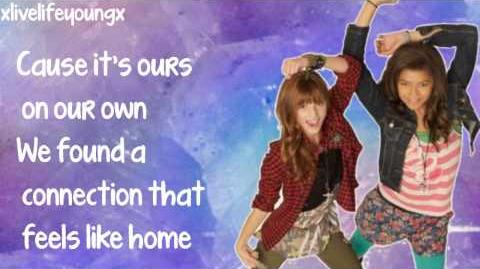 Relationships
Edit
| | | |
| --- | --- | --- |
| Name | Relation | Feelings |
| Josph | Father | I miss him dearly |
| Aine | Mother | Uhhhh, do I be honest or nice? |
| Maryen | Step-Mother | I HOPE SHE WENT TO HELL!!! I'M GLAD I KILLED HER!! |
| James | Husband | Love him with all my heart, I'm glad he's here with me |
| Daisy | Daughter | Love her, I'm glad she's here with me |
Ad blocker interference detected!
Wikia is a free-to-use site that makes money from advertising. We have a modified experience for viewers using ad blockers

Wikia is not accessible if you've made further modifications. Remove the custom ad blocker rule(s) and the page will load as expected.